045: What Is the Essence of Authentic Leadership?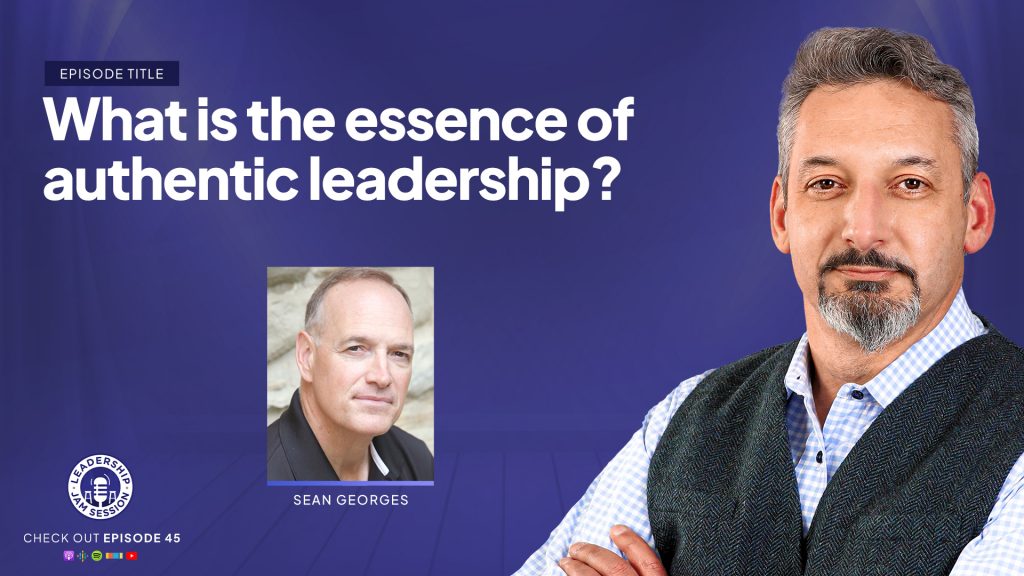 What does it mean to be an authentic leader? And how can you develop that mindset?
Today's guest is Sean Georges, a former Marine Corps officer who graduated with distinction from the United States Naval Academy and currently serves as a Senior Vice President and General Counsel for a publicly-traded company. 
Sean's experiences during his years in the Marine Corps provided him with a vast repertoire of valuable leadership insights and team-building skills. 
However, one of the most profound lessons Sean has learned on authentic leadership springs from the story of a near-fatal car accident involving his daughter.
He witnessed the power of teamwork towards accomplishing a shared mission embodied in the bold actions of the rescue team.
In this episode of the Leadership Jam Session Podcast, we'll discuss what lies at the heart of genuine leadership, the difference between managing and leading, and how to develop an authentic leadership mindset.
The inspiration behind Sean's message
Sean first set out to share his message of authentic leadership on a very inspiring TEDx talk based on the lessons he had learned from his daughter's accident, which she fortunately survived. 
He witnessed how effective the rescue team had been by working as a whole, from when the vehicles collided through her arrival to the Children's Hospital via helicopter. 
Before the accident, Sean thought he already knew what leadership was all about; after all, his training in the Marine Corps had provided him with the skills and preparation to lead teams effectively.
But what he saw in these strangers at this accident scene was what he now considers the absolute truth of leadership: people coming together to accomplish a shared goal. And doing so as servants of both the mission and one another. 
After his daughter's recovery, Sean's mission was now one of gratitude. He wanted to know the people that had stepped up and rescued his daughter from the wreckage and thank them for their exceptional and selfless response.
Fortunately, he was able to track his brave team of people down and express his gratitude towards them.
And one of the things he is thankful for is to have learned such valuable lessons about authentic leadership.
What authentic leadership is about
Many leaders don't know what the term 'authentic leadership' means or how to develop it. 
Sean believes he has the answer; an authentic leader understands that they have an opportunity to influence the people around them and develop a style of leadership he calls 'servant leadership.'
The idea of serving as a leader is to understand that it's not about the ranks and titles. It's about developing a sacred, deeply held responsibility towards helping the mission and guiding the team towards it.
During his service in the Marines at the Naval Academy, Sean also learned that authentic leadership also means recognizing the difference between managing and leading.
We manage things and processes, and we get the opportunity to lead by serving human beings.
And the key is to realize that you've got responsibilities on both sides of the equation.
Your job as a leader is not to have the answer
Sometimes, leaders have to serve their teammates by getting a different perspective on the problem.
If you've got an answer, it might not be the best answer.
Your responsibility as a leader is to always turn to your team and say, "let's work on the best answer." 
To lead is to influence in the direction of the shared mission; it's to serve one another, find the correct answers and help your people gather their strengths towards accomplishing the task at hand.
Authentic leaders can trust their team's capabilities and admit when they don't have a clear enough understanding of a given situation.
Sean believes that the ability to say: "I don't know, help me understand. Let's figure this out together" is a trademark of an authentic leader, something that all leaders should strive to achieve. 
Key Takeaways 
– Episode intro (00:00)
– What inspired Sean's message (01:15)
– Leadership lessons from Sean's daughter's car accident (03:39)
– How to develop authentic leadership (07:52)
– Your job as a leader is not to have the answer (16:10)
– What is my best and highest role? (24:00)
– What the essence of authentic leadership is (25:12):
Leadership Resources
How are the leaders at all levels of management tackling the toughest challenges each day? Learn more at: https://sartoleadershipgroup.com