047 – Ask Rob: How to Handle Two Employees Who Are Not Getting Along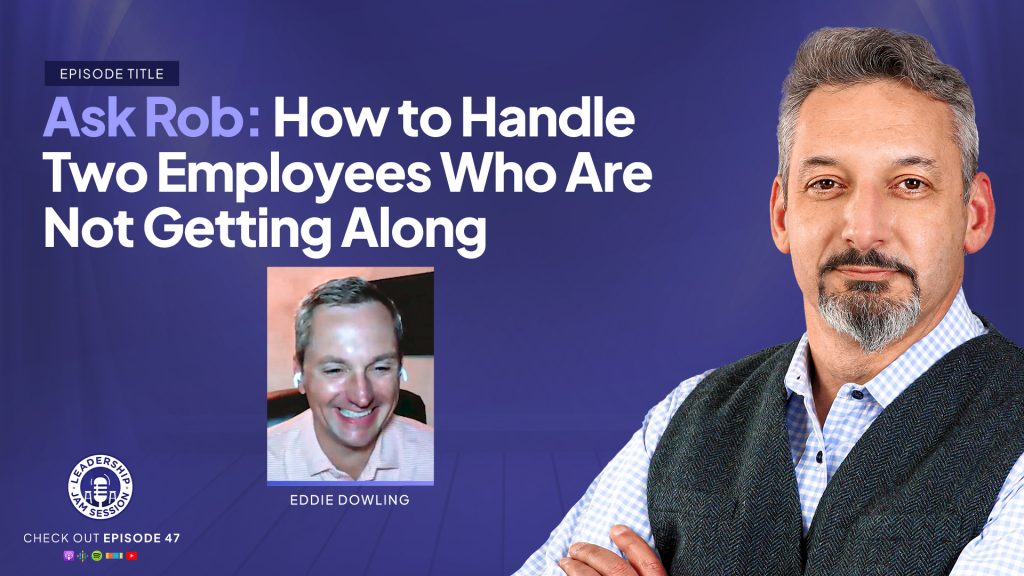 Today's episode will feature a new format we're launching called 'Ask Rob', where I answer questions I've received from listeners on how to handle challenging scenarios related to managing teams.
This episode is based on a question I recently received asking me how to manage two employees who are not getting along but need to work together to achieve a common goal.
To help me tackle this specific, challenging scenario, I brought in Eddie Dowling, a seasoned leader and a dear friend of mine who's also been on the Leadership Jam Session podcast before.
We'll discuss why it's essential to take a step back and understand the context of the conflict and that it didn't happen overnight. And we'll also talk about why it's in your employee's best interest, and yours, to get them to work it out themselves.
If you have a challenging scenario that you'd like to get my thoughts on, please go to my website at leadershipjamsession.com and look for the 'Ask Rob' logo. There, you'll find out more about how you can submit your challenging scenario to me – which could get featured right here on the jam session.
Key Takeaways
– Episode intro (00:00)
– How to handle two employees who are not getting along (01:27)
– Trying to find a shared purpose (02:43)
– Why it's important to expect and encourage healthy debate (06:03)
– Why a leader's role is to be a guardrail for the team (08:08)
– Assessing your role in the conflict (13:35)
– Episode recap (15:26)
Leadership Resources
How are the leaders at all levels of management tackling the toughest challenges each day? Learn more at: https://sartoleadershipgroup.com