053: Top Challenges of Managing in a Matrix Environment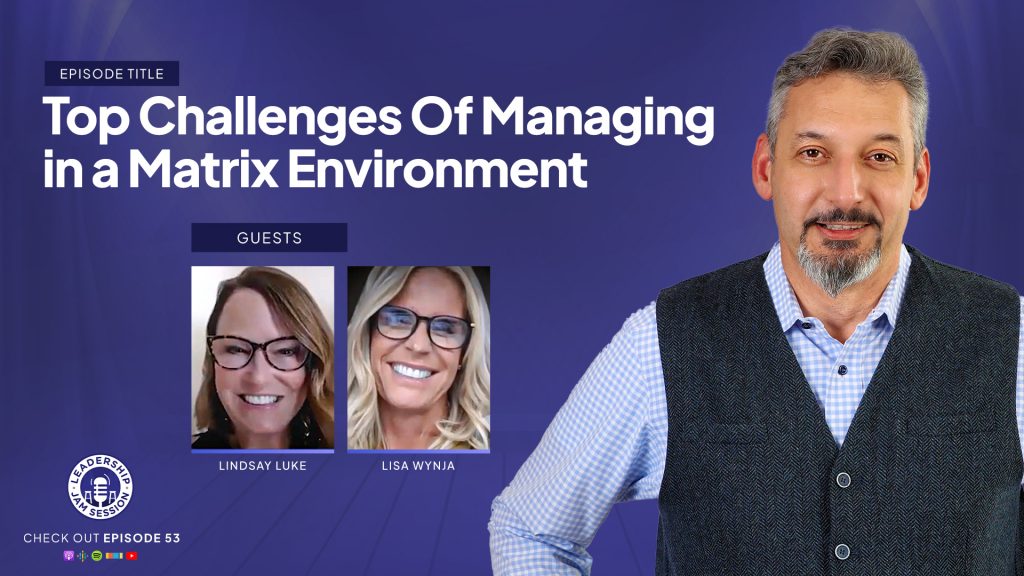 The matrix environment: When you have employees reporting to you and reporting to other managers on a dotted line.
Getting everyone on the same page with this type of team alignment can get a little confusing.
Nevertheless, a matrix environment defined by sincerity, humility, and communication can yield impressive results.
So, what are the most significant challenges and benefits of managing employees in this environment?
In today's Leadership Jam Session Podcast episode, I welcome two of my former colleagues, Lisa Wynja and Lindsay Luke, to help us navigate this discussion.
Each has vast experience dealing with these scenarios, so they'll be sharing their insights and experiences with managing in a matrix environment.
We'll discuss the importance of building relationships and fostering healthy communication, plus our advice for new managers on successfully dealing with a dotted line relationship.
Key Takeaways
– Episode intro (00:00)
– Why managing in a matrix environment is so challenging (01:51)
– The importance of humility (03:10)
– Dealing with complex scenarios (06:26)
– How to build trust with other managers (11:25)
– Why successful relationships are based on communication (13:06)
– The advantages of dotted line reporting (16:49)
– Episode recap (18:28)
Leadership Resources
How are the leaders at all levels of management tackling the toughest challenges each day? Learn more at: https://sartoleadershipgroup.com