046: How to Deal With Decisions When You Disagree With Your Boss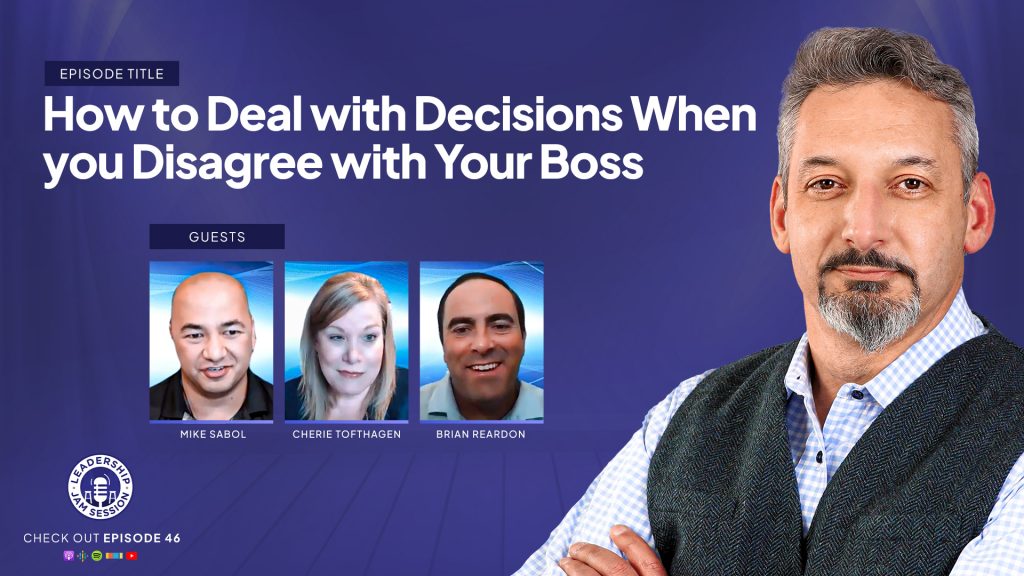 How do you handle getting directions passed down from your boss that you don't necessarily agree with? And how do you communicate these decisions to your team?
There may be cases where these directions are coming from high up in the organization, and there's not much you can do about it.
But you need to know that sometimes it's okay to push back, especially if you understand the environment you're operating in and assume positive intent on what the company is trying to accomplish.
Situations like these can get tricky to solve since much is determined by context, but you can do a few things to make these processes run as smoothly as possible.
In this week's episode of the Leadership Jam Session Podcast, seasoned leaders Cherie Tofthagen, Brian Reardon, and Mike Sabol join me to discuss the best strategies to adopt in these scenarios.
We'll talk about why transparency and communication are crucial, how to give ownership to your team, and the importance of mentorship and building advocates.


How to adopt a global mindset
Whenever you've got directions from above you don't necessarily agree with, the first thing you need to remember is that you're representing the company as a manager. You need to get aligned with their position.
Ultimately, it's your responsibility to own that decision and then pass that decision down to the team in a positive way; taking a step back and looking at the big picture will make the process much easier.
You need to always think and act one level up.
It's also important to assume positive intent in these decisions; after all, everyone in your company wants it to succeed, so looking at it this way allows you to understand where the decisions are coming from.
And while you may not be in control of these decisions, this makes it easier to control how you react to them.
While sometimes it's better not to share your cards too much concerning whether you feel entirely behind a decision, being authentic and honest with your team is crucial. They will quickly figure out if you don't believe in it.  
When your team knows that you have their back, that you have their interests in mind, they know that you're going to protect them as much as possible. 
Why sometimes it's okay to push back
Of course, if some decisions crossed some of your ethical or personal principles, you wouldn't even want to work for that organization at that point.
But what about decisions that don't cross any of these lines, yet you may still disagree with? 
Many managers, especially new ones, struggle with the idea of pushing back. 
However, taking that information and simply delivering it forward to your team without asking any questions will only undermine your credibility as a leader. 
As we discussed before, your team will know that you do not agree with these decisions, and going through with them without asking questions or pushing back denotes a lack of trust in your managers, your team, and ultimately the company.
Now, you also have to test the waters and understand the environment you're operating in to see what kind of flexibility you might find if you decide to push back.   
Again, it's all about trust and transparency.
If you develop a solid relationship with your manager, it's much more likely that you'll have much more space to push back in the future.
A great approach is to encourage pushback before a decision is rolled out whenever possible.
This will allow your team to poke holes in the decision and determine if there could be a better approach, and once the team is aligned on the decision, all managers or directors then carry it out as if that's the only decision they ever made. 
Of course, there will be cases where this kind of direct feedback won't be possible. But the takeaway here is to realize that you're all working on this together.
And there may be times when you think you're making the right decision, only to discover the opposite thanks to different perspectives and feedback from your team.
The importance of putting together a communication plan
Communication leads to knowledge. Knowledge leads to trust, and trust leads to respect. Ultimately, it all stems from communication, so having a solid communication plan in place will go a long way.
Often, when directions are passed down, the 'why' behind it is usually missing, which can be problematic, especially when delivering bad news or some drastic change.
A very effective strategy you could adopt to soften that blow is to have weekly touchpoints, where you're having very frank conversations, where you're being updated on key strategic business imperatives, and where feedback is welcome.
The point is that you can't over-communicate. If you get this right, where you've planted the seeds, you've prepared the manager and put a solid communication plan in place; it will tremendously help your team gain acceptance of the news or decisions.
And since your goal is to get your team behind these decisions, by having these weekly touchpoints, you're providing your team with a sense of control, showing that you trust them to do the right thing.
You may also reach out to a mentor or another peer to get an idea of how they might approach the situation. Your team members can also serve as advocates to help you move the team forward.
Keep in mind that employee engagement is a massive driver of the company's culture. Your employees want to be recognized for their contributions; they want to feel they work in a safe environment, that they're growing professionally from a career perspective.
Key Takeaways 
– Episode intro (00:00)
– Why you need to develop a global mindset (02:38)
– How to involve your team (04:54)
– It's okay to push back (06:45)
– Why transparency is vital (12:34)
– The importance of employee engagement (18:51)
– Why you need a strong communication plan (22:04)
– Episode recap (24:37)
Leadership Resources
How are the leaders at all levels of management tackling the toughest challenges each day? Learn more at: https://sartoleadershipgroup.com