Remembering 9/11: Part 2 – Our Personal Stories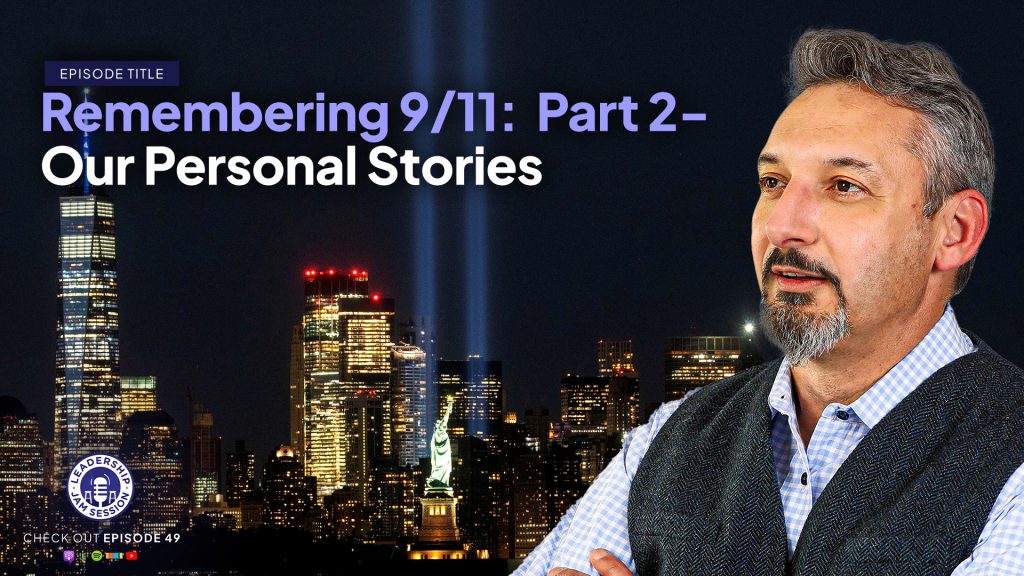 Earlier this week we released  the first part of our tribute to the 20th anniversary of 9/11, where I shared a bit about my time as an officer in the Fire Department of my hometown, Kenilworth, New Jersey.
I talked about some of the leadership lessons I learned during those years and how I led a firefighters company into New York City on 9/11.
So, today's episode is the second part of our tribute to 9/11. I'm joined by two of the firefighters that were part of that team on 9/11: Bobby Walker, who was the Deputy Chief at the time, and Joe Padula, also a captain who's still active with the department. 
We'll talk about our memories from that day and some of the perspectives of what went on behind the scenes spending time with New York City Firefighters as we moved into the staging area in Staten Island, where we got our assignment. 
What happened after our team got called
After we got the word that we were going, we assembled our crew and headed towards the first staging area on the golf hills bridge connecting New Jersey to Staten Island.
Looking back, it was an eerie feeling to see such a usually traffic-heavy place so deserted. This strange sensation was exacerbated by the massive cloud of dust and debris that covered the city as far as you could see.
We were on the bridge, waiting for the rest of the convoy to muster together. After a while, an impressive number of engines and trucks started to arrive.
Once the squad was complete, we took off in one giant line, going over the bridge to the next staging area. When we hit Staten Island, we looked back, and the line over the bridge was so long we couldn't see the end of it – just the flickering lights of all the engines and ambulances.  
When we arrived at the firehouse, we found nobody. The firefighters were doing a shift change at the time, many of them being assigned to cover ground zero. 
So, as we waited in that firehouse for people to show up and provide directions on where we'd be going, we got to witness one of the most heart-wrenching moments from that experience – a couple of older, retired FDNY firefighters running into the firehouse to grab gear.
They told us that both of their sons, who were also firefighters, had been sent to ground zero in the first wave, and the reason they were getting gear is that they were going to go down and look for them.
This is when we truly started to fathom the severity of the situation.
How we joined the NYC Fire Department in Staten Island
At the very beginning, we wondered how the New York City Fire Department would receive us; after all, they are known as one of the best fire departments in the world, and our department had never stepped foot in their firehouse until then.
However, they couldn't have been any more gracious and candid from the moment we got there.
One of our escorts arrived at some point, and the first thing we discussed was how we would hook up to the hydrant and get water if needed.
The main problem was that our equipment differed from theirs, so we spent a while figuring out how to hook up to the hydrogen and their ladder truck; it took us some time, but we managed to get everything together. 
Right after that, we went on a call – a report about a refrigerator fire – along with the New York City firefighters. Fortunately, everything ran smoothly. 
We remember people taking pictures of us; they were pretty surprised to see firefighters from the New Jersey Department there. Some of them even asked us if we were lost, but most were grateful we were there to help.
Our night was restless and nerve-racking. At one point, the bells started ringing downstairs, and the lights went on, and when we got there, they told us we might be moving down to ground zero.
However, they told us to wait instead. This scenario happened a few times throughout the night.
We were at the firehouse for almost two days. When we got back to the firehouse the final night, we found out that our spouses and family were all there; they had been trying to find out where we were because communication had been cut, and nobody knew. 
Remembering the firefighters we lost that day 
The worst moment we all remember was when the firefighters who had been to ground zero were coming back into the firehouse.
That's when we learned that many of the rescue teams had not made it back. And the remaining rescue teams were practically powerless at that point since they had lost most of their equipment at ground zero. 
We could feel that sense of helplessness all around us.
In the aftermath, we would go back a lot to help out at the funerals for some of the firefighters we lost that day, and since then, we've maintained a relationship with the New York City Fire Department.
Looking back today, even though the way we contributed in the grand scheme of things was insignificant compared to those who truly paid the ultimate price, I feel that sharing our stories may help serve as a reminder out there for us – to never forget.
Key Takeaways 
– Episode intro (00:00)
– What happened after our team got called (01:25)
– How we joined the NYC Fire Department in Staten Island (04:50)
– Why communication was a significant problem (12:04)
– What happens behind the walls of a firehouse (16:94)
– How we spent the night at the firehouse (21:16)
– Remembering the firefighters we lost that day (27:20)
– Why we'll never forget (31:20)
Leadership Resources
How are the leaders at all levels of management tackling the toughest challenges each day? Learn more at: https://sartoleadershipgroup.com