Remembering 9/11: Part 1 – What My Time As A Firefighter Taught Me About Leadership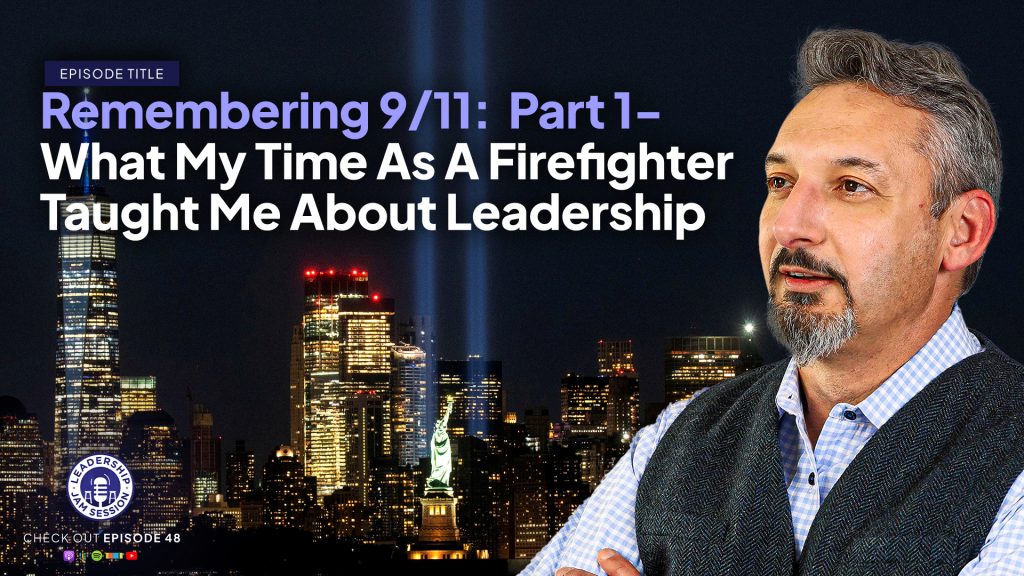 As the Leadership Jam Session Podcast is approaching its 50th episode, I want to thank all of my listeners for investing your time to tune in and listen to my podcast. 
I'm confident that all of us can point back to specific events and people that have shaped us on our leadership journey.
For me, there was a significant time in my life that helped shape me as a leader; my  time as a firefighter, and more specifically, when I was asked to lead a team into New York City on 9/11.
So, this episode of the Leadership Jam Session Podcast, along with the next episode, will be dedicated to the 20th anniversary of 9/11. 
I'll share a little bit of my background and talk about how that day's events shaped my leadership principles and philosophies. I hope this episode also serves as a reminder that we should never forget what happened that day, especially for those who made the ultimate sacrifice. 
Leadership lessons from my time in the Fire Department
So I'd like to talk about my time as an officer in the Fire Department of my hometown Kenilworth, New Jersey, and some of the valuable lessons on leadership I got to learn during those years.
The fantastic people working in this department were all volunteers, from the firefighters up to the chief. 
In a volunteer fire department, the way you become an officer has nothing to do with being hand-selected by the chief or going through any testing – it was purely based on being nominated and voted in by all department members. 
Of course, you had to have specific certifications and meet certain criteria. But outside of that, you were voted in by the members of the department every year. 
It was a very humbling experience to be there, waiting to know whether the men and women I lead trusted me enough to allow me to continue to lead them.
Especially if you're leading your people into a dangerous situation, they want to know that you have the chops and that you can be trusted to guide them through that.
This experience deeply impacted me and shaped my entire approach to leadership.
Looking back, the most important lesson I got from that experience was that I should never take my people for granted – my number one responsibility is to them.
I learned that it's not about how popular you are or whom you're trying to impress. I was being measured every year by the firefighters based not on my words but my actions, how I proved myself in the trenches with them. 
What I learned from my experiences on 9/11
When the towers collapsed, a significant amount of resources for New York City were wiped out.
Many of the firehouses throughout New York were empty, so Fire Departments from New Jersey and Long Island moved in to help out. 
At the time, our department had an excellent reputation. We were known for being very aggressive, and all of us were very well experienced. 
But when we got asked to go to New York City, I realized we were completely out of our league. At that point, I had been an officer for five years, but I still didn't have the type of experience that you would find in a major city like New York. 
I remember the department chief walking up to me and saying:" We just got the call, and we're going in. I need you to pick your team; we're leaving in like five minutes."
As I was walking towards the front of the firehouse, I saw the guys waiting there for me to decide who was going and who was staying. 
I remember walking by each guy trying to figure out whom I would take, tapping the ones on the shoulder to get on the rig with me. 
My heart was pounding, but when we got on the rig, I did take comfort in knowing that I had the right guys with me; I had picked the best of the best. 
There are a handful of moments of 9/11 that I remember, and this one was one of them.
As we were driving across the bridge into New York, there was a massive convoy of emergency equipment and teams moving in, as far as I could see.
I believe that's a testament not only to who we are as a country but to the willingness and determination of the emergency services, the men and women who came together to do what needed to be done at a moment's notice. 
Key Takeaways 
– Episode intro (00:00)
– Why working at the fire department was a humbling experience for me (03:12)
– The three basic principles my leadership approach is based on (06:21)
– Why feedback has to go both ways (08:12)
– My experiences on 9/11 (09:45)
– How my team got called to help (17:21)
– Leadership lessons from that day (22:50)
Leadership Resources
How are the leaders at all levels of management tackling the toughest challenges each day? Learn more at: https://sartoleadershipgroup.com