2021 Year-End Wrap up & Lessons Learned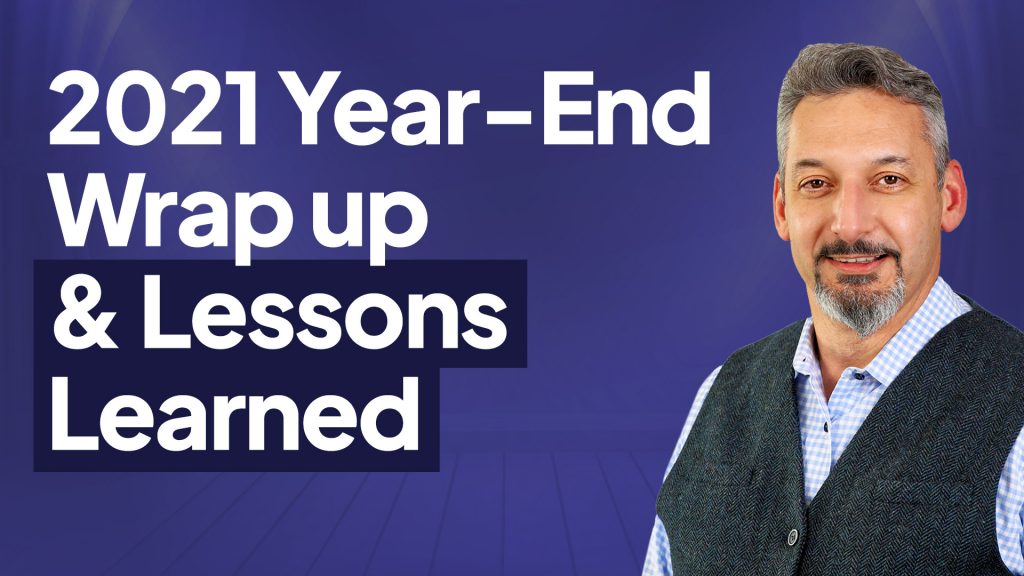 As 2021 comes to an end, I wanted to thank my audience and guests for their support and valuable contributions. To discuss some of the essential leadership themes we covered on the podcast, I welcome James Christie, my podcast producer. Read on to learn our top leadership tips and lessons from 2021.
We also discuss the challenges leaders will be facing in 2022 and the tools and skills required to tackle them.
Top 3 Leadership Lessons and Tips from 2021
Throughout 2021, I've been fortunate to have welcomed some phenomenal guests in the podcast. I'm confident their input brings much value to the listeners out there who manage people. Hopefully, you're all walking away with many great tips. 
This year we've also launched new features, one of them being the 'Ask Rob' series. There, people can submit challenging scenarios to me, which I feature on an episode and offer solutions. Some of the questions that came in were phenomenal and very well put.
While we discussed several topics on the podcast this year, a few stood out to us the most. 
Can you build trust faster with your employees?
As I reflect on this year, building trust with your employees was one of the recurrent themes. I featured this question in one of our 'Ask Rob' episodes, and my answer was straightforward: Yes, you can build trust faster with your employees.
However, it involves dedication and showing genuine, positive intent to your employees. Addressing your employee's personal needs will show them that you care about their well-being as their manager.
Sometimes, it's the little things that matter most
Building on the last point, sometimes the key to building trust with your employees lies in small details. 
This point was brought forward by Scott Holmes, one of my former coworkers and a great leader. In that episode, Scott shared how he often supported his employees through issues in their personal lives outside the workplace. 
These acts of kindness and genuine interest helped him earn tremendous trust from his teams.
How do I know if I'm a good leader?
This was another question I addressed in one of our 'Ask Rob' episodes. I know there's a lot of senior leaders out there who may disagree with the answer that I provided. 
But at the end of the day, it's not your boss or your managers who can tell you if you're a good leader- it's your employees.
That's a lesson I learned many years ago during my experiences in the fire services. If you want to become an officer, you have to get voted in by the members, not by the other officers or the chief. 
That experience taught me a precious lesson in humility. The only ones that can tell you if you're a good leader are your people.
Tips from the Coach's Jam Session
From the very start, the whole purpose of this podcast has been to share practical solutions to the management challenges that people are facing every day. 
So, a great way to bring to light practical management techniques is to consult other peer managers. Their different perspectives and experiences are precious when examining various management topics.
I meet once a month with a panel of managers on the 'Coach's Jam Session.' There, we discuss common management challenges and our views on how to solve them. We've featured some of that content on the podcast, and I'm confident there are many valuable takeaways for all managers.
When we launched the 'Coach's Jam Session' in the summer of 2020, we were still working in virtual environments. 
So, the first topic that came up from the group was building trust and maintaining that trust in a virtual environment. We concluded that the best strategy includes fostering team unity and having frequent one-on-ones with individual members.
We shared some techniques to effectively deal with unaware employees in another episode. Some of them included leveraging your team's input and developing a clear perspective.
As companies started to reopen offices, we also discussed the challenges of keeping employees engaged in a hybrid environment. We stressed the importance of developing a supportive leadership style and understanding your employee's needs. 
It was fascinating to me to see the evolution of that panel, and I strongly recommend checking out those episodes. I guarantee you'll find valuable leadership tips that apply to all levels of management.
Challenges leaders will face in 2022
I'll be honest, I hate to even think of this, but apparently, 2022 may be a deja vu of last year as COVID is back on the rise. 
The good news is that we're much more equipped now to deal with the situation as managers. We have the tools and experience to manage teams in both virtual and hybrid environments effectively. This scenario also becomes an opportunity to double down on building your team's skills and resiliency. 
As a leader, the most significant challenge you may come across is keeping your people engaged and motivated. 
Focus on developing a supportive leadership style and understanding your employee's needs. Keeping your people engaged and motivated will be much easier if you provide them with a sense of belonging. 
We wish you all happy holidays, and stay tuned for the next episode of the Leadership Jam Session Podcast!
Key Takeaways 
– Leadership lessons from 2021 (00:00)
– How to know if you're a good leader (03:40)
– Leadership lessons from my time as a firefighter (04:07)
– Top tips from the Coach's Jam Session panel (08:09)
– The challenges leaders will face in 2022 (13:35)
Leadership Resources
How are the leaders at all levels of management tackling the toughest challenges each day? Learn more at: https://sartoleadershipgroup.com