How to Keep Your Vision Alive with Your Team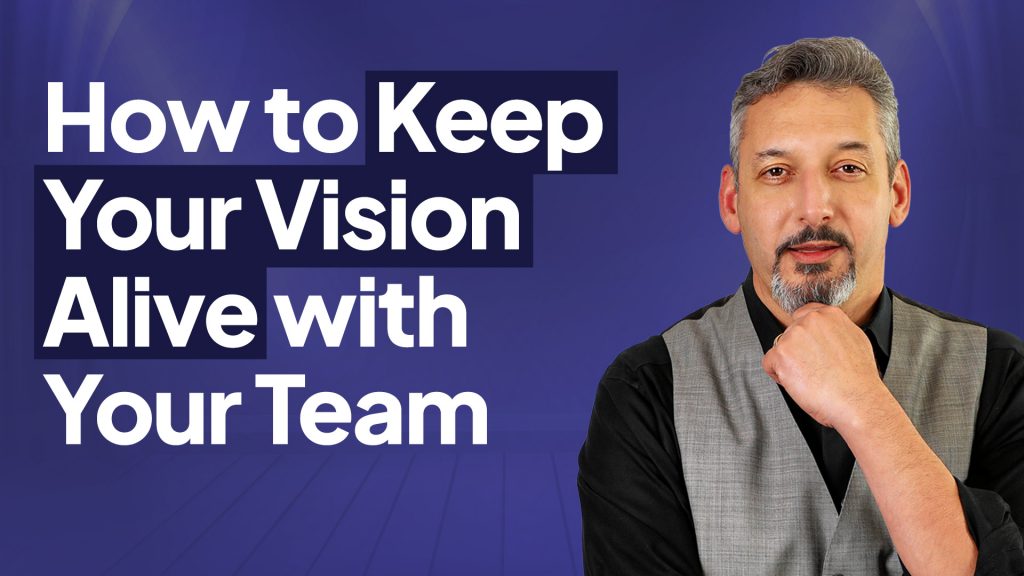 How can leaders keep their vision alive and consistent with their teams?
In our latest Coach's Jam Session, we discussed the best techniques and approaches to keep your vision alive throughout the year. Tune in to learn our tips on creating an impactful and purposeful message for your vision.
We'll also discuss the importance of understanding different learning styles and leveraging technology to reinforce your message.
You'll learn why a strong vision statement is the foundation that ultimately gets teams through difficult times.
How to write a strong vision statement
Keeping your vision alive starts with the message itself. Part of the reason messages or visions don't last is that they're too long or convoluted.
So, you've got to keep your vision statement simple, and it has to be a catchy message. 
You can use inspiring language, but you also have to provide purpose and impact. Writing a purposeful message entails having a clear view of your team's goals and overall direction. 
If your vision can't describe your team's purpose and desired impact, people won't understand it, and it will not stick.
Keeping your vision alive is like using an anchor on a boat. It has to be strong enough to position the boat accurately, and it's only as strong as its weakest link.
Each link has to be strong enough to keep your vision secured. Otherwise, it'll be much harder for your vision to survive rough waters and changing tides.
Those links may include one-on-ones or coaching discussions. Your goal is to keep finding ways to reinforce that vision and get your team to embrace it.
However, it's essential to be flexible as well. Organizations change, so you may need to adjust or reposition your vision to ensure it reflects your team's current goals. 
Leaders need to develop the awareness and courage to know when to reposition their statement. Constantly revisiting your vision and making sure everyone is on the same page it's a fundamental part of keeping it alive.  
The importance of building advocates
We've discussed how an essential part of having a solid vision is to have a powerful message that sticks. And one of the best ways to achieve that is to involve your team during its creation because then they own it as well.
So, you need to recruit ambassadors, advocates of the message. These advocates are people on your team who will help you keep it alive. They're going to be the ones behind the scenes when you're out there pushing it.
Once your team starts to speak that message back to you, acting and thinking that language, it's essential to recognize them for it. Rewards and recognition can get you a long way when it comes to getting that buy-in from your team.
Going back to positioning and repositioning, you should also rely on your team when updating or writing a new vision statement.
Businesses and environments change. So, it's crucial to ask your team for their input when adjusting your message. 
You can have your team submit statements individually and then vote on which statement represents your team's current vision the best.
I'm confident that the most purposeful and connected statements are created and maintained by the whole team. So, you can't undermine the importance of building advocates and always involving your team when updating or reviewing your vision.
3 tips on how to keep your vision alive
We've seen how writing a vision statement that lasts requires a set of different leadership skills. Your message needs to be impactful and catchy, and your team needs to believe it and support it. 
While this may sound pretty simple in theory, it can be more challenging than you would expect. So, here are three tips on how to build and maintain a vision statement that lasts.
It's all about repetition
When pushing your vision forward, it's essential to be intentional and proactive. This means that you need to reinforce it frequently and consistently. Repetition is key!
You can reinforce your vision in your feedback sessions. You can give an example of how your team executed a program or did an initiative and align it back to how it correlates back to the vision that you set forward. 
     2. Understanding different learning styles
If you want to reinforce your vision successfully, you also need to consider people's different learning styles.
For example, placing an image at the bottom of your email can work great for visual learners. Sending videos or podcasts that incorporate some aspect of your vision will be most effective with auditory learners. It's all about keeping it exciting and consistent.
    3. Leveraging technology 
Reinforcing your message through all the different channels available to you is crucial. 
You could place the statement as the background of your organization's Zoom account or as a slogan at the bottom of emails. 
There are countless ways to keep your vision statement alive with technology at your disposal. So, don't be afraid to get creative! 
Key Takeaways 
– How to keep your vision alive (00:00)
– Creating an impactful message (01:56)
– The anchor metaphor (02:36)
– How to get your team on board with your vision (08:45)
– Why repetition and reinforcement is crucial (17:44)
– Leveraging technology to keep your vision alive (19:32)
Leadership Resources
How are the leaders at all levels of management tackling the toughest challenges each day? Learn more at: https://sartoleadershipgroup.com