Ask Rob: Field-Based vs. Home Office Team Management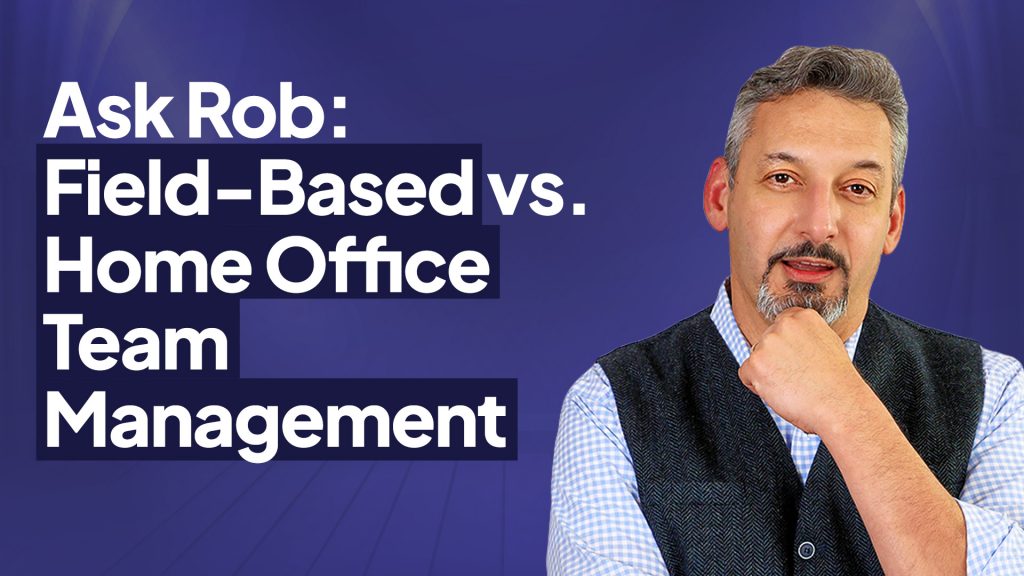 In our 'Ask Rob' series, people reach out to me through my website asking for leadership advice. To help me with this particular question, I sat down with James Christie, my podcast producer. Read on to learn our tips on managing teams in both scenarios successfully.
We discuss why the fundamentals of leadership apply in both field and home office management. You'll also learn the tactical differences you'll need to consider when managing in both environments. 
Managing field-based vs. home office teams: What's the difference?
The question we tackle today comes from Janice from New York:
"Dear Rob, do you think there's a difference between managing field-based employees vs. employees in a home office setting?
To provide more context, field-based teams typically work away from home in client-facing roles – unlike home office teams. 
When it comes to managing teams in both cases, the same basic leadership principles apply. Whether it's building trust, emotional intelligence, or situational leadership, all those remain constant.
However, there are some nuances; you need different skillsets and strategies to manage each side effectively.
For example, home office teams handle projects requiring different skills than field-based teams'.
It's also essential to consider that the relationship you'll build with each type of employee will be different. Unlike field-based employees, home office employees typically communicate and interact with you constantly.
Unintentionally, you could be giving the perception of favoritism for your home office team. So, you have to be careful and cognizant when you're managing field-based employees.
It's all about being consistent, intentional and very organized. 
For example, you could have weekly status meetings to bring your entire team together. This way, both teams can connect and stay updated on what the other team is doing.
3 tactics for managing field-based teams
We've discussed how the basics of leadership apply to both types of teams. However, there are essential differences you need to consider when managing field-based teams. So, here are 3 tactics that will help you manage field-based teams much more effectively.
1. Over-communicate
As a manager, it's critical to take the time to recognize and reward your field-based employees.
Leaders are often quite busy dealing with their day-to-day tasks and meetings. It's easy for them to get caught in the minutiae and neglect their field-based teams.
So, you need to be intentional about having frequent touchpoints with your field-based teams. There, you'll be able to receive updates and provide feedback.
In short, communication is essential. You don't need to set up meetings with your field-based teams every day. You need to do it frequently enough to stay updated about the team's performance and updates.
2. Take some time to reflect
When managing field-based teams, leaders should take some weekly time out to reflect on their goals and overall approach.
It's easy to lose sight of your field-based team's activities and performance. So, you need to sit down and ask yourself what you could improve or what you could be missing.
Having a weekly activity tracker may come in handy when managing field-based teams. It's not for the sake of keeping track of what they do but to help you reflect on what they achieved that week. 
Then, you can touch on those specific points when having performance discussions with your team. This strategy will also help you improve and adjust your own leadership approach.
3. Focus on the outcomes
Often, moving projects along at the speed of a home office isn't as achievable in a remote environment. You need to consider that the pacing will be different.
So, it's critical to focus more on the outcomes rather than your team's specific activities.
To achieve this, you can set up a monthly outcomes report. There, you can get a long-term view of your field-based team's most significant achievements.
How to become a more versatile leader
The pandemic forced both managers and teams to work in a completely new and strange environment. For leaders, it was challenging to learn how to manage in these unusual circumstances. 
For a while, remote work was the only option for organizations. Now, it seems like the hybrid workplace is becoming the norm. 
The hybrid workplace requires you to apply field-based and home office management strategies.
Acquiring these skills can be challenging, especially for new leaders. However, it's a fantastic way to become a more versatile leader.
Here's where developing a situational leadership approach is critical. It allows you to adapt your leadership style according to the specific scenario.
Whether you're managing field-based, home office, or hybrid teams, applying the principles of situational leadership is essential. 
Do you have a question or challenging scenario you'd like to run by me? 
Go to https://sartoleadershipgroup.com/leadership-jam-session-podcast/. Click on 'Ask Rob' and send your request. I'll respond with some guidance on your scenario!
Key Takeaways 
– Managing field-based vs. home office teams (00:00)
– The tactical differences you need to apply (03:31)
– How to avoid perceptions of favoritism (07:46)
– The challenges of managing in a hybrid environment (10:07)
– Keeping track of field-based teams (17:23)
– Why the fundamentals of leadership remain constant (19:23)
Leadership Resources
How are the leaders at all levels of management tackling the toughest challenges each day? Learn more at: https://sartoleadershipgroup.com