Leadership Tips From Dave Forman, US Submarine Captain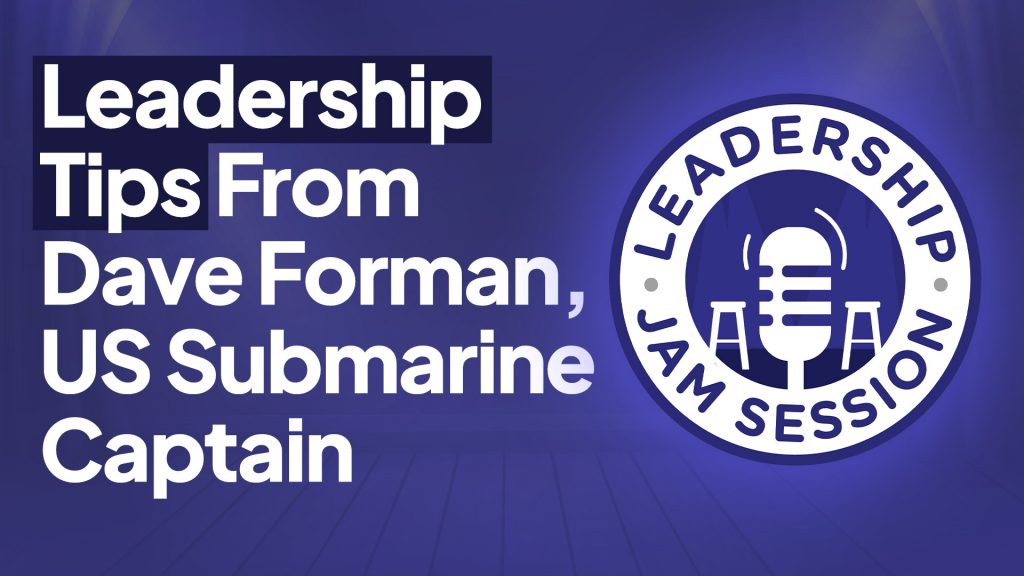 Captain Dave Forman is a US Navy Submarine Captain and founder of Wolfpack Leadership.
Dave provides his clients with practical training and the application of proven leadership methods from US submarines.
He has over 20 years of experience at all leadership levels, from line manager to chief executive. Dave leverages his success and experience as a nuclear submarine Captain to accelerate his clients' leadership skills.
Keep reading to learn why the fundamentals of good leadership apply to both the private and military sectors. We'll also discuss Dave's most significant leadership challenges, plus his advice for new leaders.
What are the fundamentals of good leadership?
There's no doubt that it takes a special breed of people to serve in a submarine. It's not an easy environment to work in, especially for anyone in a leadership position.
On top of that, the Navy can be a very competitive environment for leaders. It is fair to make the case that it's even more competitive than the private sector. There's a rigorous screening process just to get into submarines.
However, even if we're looking at two completely different sectors, the fundamentals of leadership still apply. Moreover, many of the challenges leaders face in these two sectors are essentially the same.
This is the reason why I love bringing on military leaders to the show. Many modern-day leadership concepts are the same concepts, techniques, and beliefs that have been incorporated in the military for over 200 years.
Mentoring individuals using these proven methods is by far the best chance for success in grooming our future leaders. 
Unfortunately, promoting leaders due to their technical expertise rather than leadership skills has been the primary approach – both in the private sector and the military.
Dave acknowledges that when he first became a captain, his approach was very much discipline-oriented. But as he progressed in his career, he learned that this wasn't always the best approach to lead.
He understood that even if you excel in your position at a technical level, it's still the people that matter more. 
For Dave, the principles of good leadership he has learned in his time in both the military and the private sector are essentially the same: consistency, setting the example of good communication skills and understanding your culture.
Dave's most significant leadership challenges and victories
One of the most prominent leadership challenges Dave faced as a captain was to provide his people with the tools to be more effective.
In Dave's view, there's a period of assessment to determine what the organization needs once you step into a management position. 
He believes the key to tackling this challenge is to look at any problem from the team's point of view – not only your own.
For example, Dave's crew needed to study some materials on one occasion, but there was a significant shortage of laptops. On the other hand, he had access to a computer all the time.
By putting himself in his crew's shoes, Dave understood that he needed to solve that problem for them. Being constantly on a tight schedule, his team didn't have the time to share only three laptops. So, Dave gave everybody a copy of everything he would ask them to read.
Another example is how Dave managed to optimize his crew's watch rotation sleep schedule. There were some concerns around the schedule from his crew's point of view. But Dave didn't want to compromise his team's training program and other duties.
Solving this challenge required iterative teamwork, where both sides shared their input and tried to understand each other. In the end, they came up with a new schedule that met both Dave's and his crew's expectations.
To be a good leader, you need to be able to get the job done. That's a given. The challenge is then making it enjoyable, making it effective in the long term. 
As a leader, it's easy to forget sometimes that the people in the rest of the organization are doing the work critical for you to succeed. It's essential to remember that your job is to create an environment where your people can thrive.
Dave's advice for emerging leaders
Dave's philosophy on what it takes to be a good leader is pretty straightforward: be approachable and open to your employee's input.
In other words: don't be a jerk.
It sounds simple, but if you take a closer look, this is one of the core principles of leadership. As a leader, you need to always think in advance – to anticipate what's to come as best as you can.
The only way you're going to do that is if you're getting good input from your employees. And if you're a jerk, you're not going to get that input. 
No matter if you're a captain or a CEO, information isn't going to land on your desk by itself. You need to work for that information. But if you're arrogant and high-handed, you're just cutting off those channels. 
So, you want to make yourself approachable. This way, you'll stay in touch with your organization and know what's going on. 
Think of your organization as a train. You're the leader, the locomotive. And you're pulling hard, but you don't want the banks to break.
However, if you separate from the rest of the train, you're not going anywhere. You're not doing your job. You need to keep those links strong – everybody's moving together. 
Key Takeaways 
– Episode intro (00:00)
– How Dave joined the Navy (01:02)
– Dave's biggest challenge as a submarine captain (05:04)
– The importance of employee engagement (08:27)
– Military vs. private sector (11:38)
– Dave's most notable leadership victory (13:41)
– Why mentorship is vital (21:21)
– Dave's advice for new leaders (25:58)
Leadership Resources
How are the leaders at all levels of management tackling the toughest challenges each day? Learn more at: https://sartoleadershipgroup.com