Top Challenges Of Managing in a Matrix Environment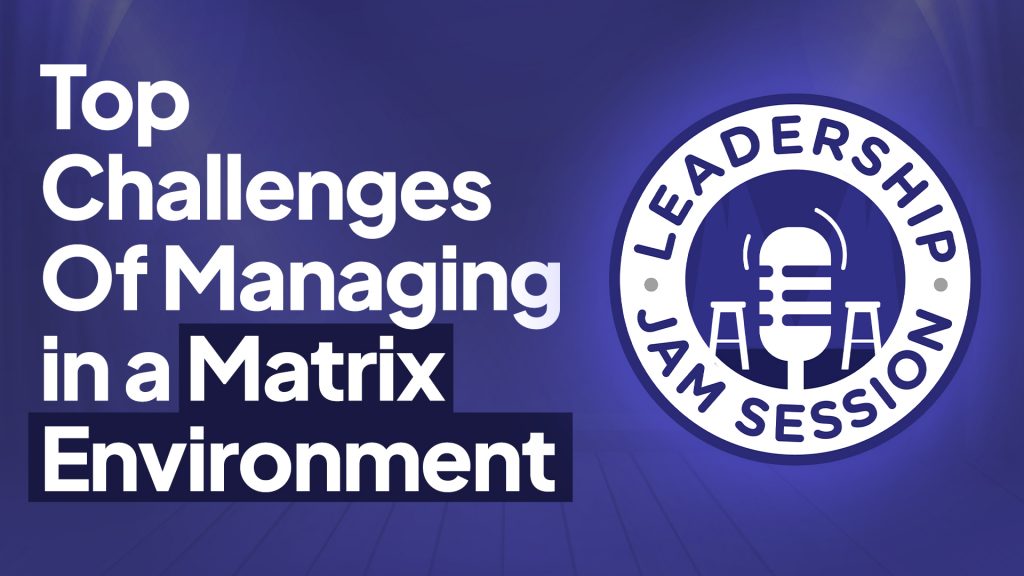 The matrix environment: When you have employees reporting to you and reporting to other managers on a dotted line.
Getting everyone on the same page with this type of team alignment can get a little confusing. 
Nevertheless, a matrix environment defined by sincerity, humility, and communication can yield impressive results.
So, what are the most significant challenges and benefits of managing employees in this environment?
In today's Leadership Jam Session Podcast episode, I welcome two of my former colleagues, Lisa Wynja and Lindsay Luke, to help us navigate this discussion. 
Read on to learn more about the importance of building relationships and fostering healthy communication, plus our advice on managing in a matrix environment successfully.
How to tackle the challenges of managing in a matrix organization
Perhaps the most significant challenge we face as leaders when managing in a matrix scenario is team alignment.
After all, the main goal of employees, teams, and managers is to achieve success. However, managing in a matrix scenario can be confusing.
The direct report is aligned with you because you're working together with your employees to build out your objective. But dotted line reporting is a whole other ball game.
Even when you're aligned to the mission, you're potentially dealing with different personalities and points of view from other managers and your employees.
Moreover, you're also dealing with entirely different leadership styles. How can you tackle that?
When two leaders are aligned, it is much easier for the dotted line employee to be successful.
But things become problematic when two leaders are marching in different directions. Employees find themselves in a difficult situation.
Let's face it: there will always be a disagreement of some sort among managers.
However, the best way to handle them is to lead with sincerity, humility, and curiosity. You don't have all the answers, and sometimes your view might be wrong or incomplete. 
The second most notorious challenge of managing in a matrix environment is dealing with misalignments between employees and managers.
Is it better to work it out with the leader they're reporting to on a dotted line? Or is it better to step in and try to clear up  misalignment on the expectations from that employee?
While context is critical here, the ultimate constant needed to solve these issues is fostering direct, sincere conversations on both sides.
Think of your role as a manager as setting the table for others. The way this table will be organized has to be discussed in advance to ensure everything is where it's supposed to go.
Why trust is vital for successful dotted line relationships
One of the most common scenarios in matrix environments is getting feedback from one of the dotted line leaders about your employee's performance.
But what happens when you disagree with their view?
The obvious solution here is to get a third party involved to provide some other eyes on it.
However, there may be cases where this approach will not work, and it has much to do with leadership style expectations.
You may think your employees are doing a great job, but you need to address the situation if the dotted line manager disagrees.
Otherwise, the relationship between that employee and that manager will never be successful.
Most times, the truth will lay somewhere in the middle. So, the best way to tackle this challenge is to promote feedback and communication on both sides.
Yet perhaps the most significant challenge comes when you have other managers coaching your employees.
If you're a seasoned manager, you'll understand that it's hard to give up some of that control.
Here is when actively building trust becomes crucial. If you have a good relationship with the other managers based on trust, no discussion is too difficult.
The bottom line is that you cannot overestimate the importance of trust and building genuine relationships when managing in a matrix environment. Failing to do so will ultimately reduce your chances of leading your team to success.
3 tips on managing in a matrix organization
We've discussed how challenging it can be to manage teams with these dotted line relationships.
So, here are 3 tips that will help you achieve a successful outcome when managing employees in a matrix type environment.
1. It's all about communication
Communication is crucial to ensure alignment with other managers. You need to understand their leadership styles, and they need to understand yours too.
As discussed earlier, communication also plays a fundamental role when building a successful relationship with your employee and a dotted line manager.
Finally, communication needs to happen on day one, with the manager of the employee and the dotted line manager. More importantly, it needs to happen consistently and on an ongoing basis.
2. Set expectations early on
If you want to lead a team to success, you need to set expectations on giving and receiving feedback as soon as possible.
Having those discussions with other managers early on is helpful because you'll promote a family-oriented approach versus a traditional linear coaching style.
If you think about it, it's like having a team of coaches who support your employee – which takes us to the next point.
3. Leverage the benefits of managing in a matrix environment
However challenging managing employees in a matrix environment may be, there's no doubt that it's a great development opportunity for managers and employees.
Dotted line relationships allow employees to work under different leadership styles and improve their performance.
For the same reason, matrix environments are also a fantastic learning opportunity for individuals looking to become managers one day. If they're getting coaching from different leaders, it's only going to help them become better managers down the road.
Key Takeaways 
– Episode intro (00:00)
– Why managing in a matrix environment is so challenging (01:51)
– The importance of humility (03:10)
– Dealing with complex scenarios (06:26)
– How to build trust with other managers (11:25)
– Why successful relationships are based on communication (13:06)
– The advantages of dotted line reporting (16:49)
– Episode recap (18:28)
Leadership Resources
How are the leaders at all levels of management tackling the toughest challenges each day? Learn more at: https://sartoleadershipgroup.com